About Our Pastor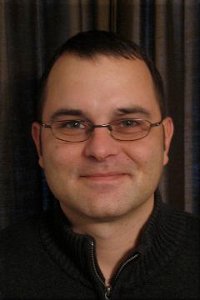 Pastor Finn was born 7 December 1975 in Fond du Lac, Wisconsin, USA. Pastor attended Faith Lutheran Church and School and Winnebago Lutheran Academy graduating in 1994. Pastor Finn went on to attend Bethany Lutheran College, graduating with a BA in Liberal Arts in May 2001. Pastor then enrolled in Bethany Lutheran Theological Seminary and received his Master of Divinity degree from the Seminary in 2005.
During his time at Bethany Lutheran Seminary, Pastor Finn served as a vicar at Norseland Lutheran Church and Norwegian Grove Lutheran Church, under the supervision of his bishop, Pastor Craig Ferkenstad.
Pastor Finn was married to Carrie Williams on July 27, 2002, at Mt. Olive Lutheran Church in Mankato, Minnesota, USA.
Pastor Finn received a divine call to serve Pilgrim Lutheran Church in Waterloo, Iowa, USA, and began service on August 7, 2005, when he was ordained into the public ministry. During his time at Pilgrim, he also received a call to serve Faith Lutheran in Parkersburg, Iowa, USA. He faithfully served both congregations until he accepted a call to serve Our Redeemer Lutheran here in Kallangur. On 30 June 2013, he was installed as pastor of Our Redeemer.
He is eager and willing to serve you with Word and Sacrament. You can reach Pastor by phone at (07) 3490-7137 or by email at danieljfinn@gmail.com.